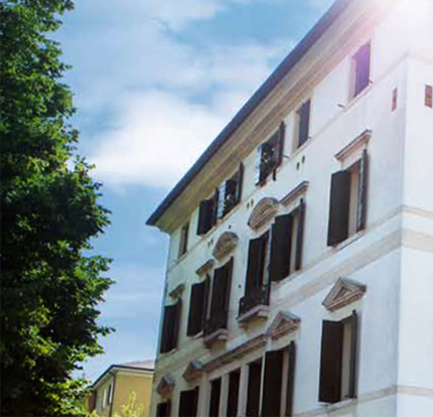 OVER 25 YEARS OF LEGAL EXPERIENCE
B&A is the foremost law firm in the Triveneto region and, as a result of its structured practice areas, it now also ranks among the leading Italian law firms. The firm's strength lies in its daily commitment to provide quality service and advice, as well as its strong team of over forty lawyers, which has led to it being established as a widely trusted point of reference and contact throughout North-Eastern Italy.
In 1991 the four founding Partners, Bruno Barel, Massimo Malvestio, Antonella Lillo and Guido Masutti, having at the time already established their own independently successful careers, joined forces with the shared vision of gathering together the best lawyers specialised in offering a wide variety of legal services to medium and large-sized companies in North East Italy and elsewhere. They firmly believed that, by creating a sophisticated and specialised partnership, they would be best placed to serve their clients' complex needs, without losing their extensive local understanding, professional networks and their close fiduciary relationships with clients. This was the philosophy that allowed BM&A to grow into the current multifaceted law firm.
As the firm flourished, it expended and attracted new Partners, often selected from among the existing Associates, thus allowing it to further consolidate its expertise in strategic legal sectors, including complex real estate transactions, large-scale retail trade, environmental law, company law, banking law, international trade, public procurement law, labour law and corporate insolvency: thus laying the foundations for further expansion.
Between 1998 and 1999, Vincenzo Pellegrini, Paolo Corletto and Riccardo Manfrini joined as Partners.
In 2006 Diego Signor and Marco Zanon were appointed Partners and in the 2012, the entrance of four new Partners - Emilio Caucci, Stefania Stefan, Pietro Calzavara and Vittorio Titotto - further reinforced the firm's configuration. Most recently, Massimo Zappalà joined as a Partner in 2017.
This innovative and forward-thinking vision proved to be a great success for the firm and today is now led by 12 Partners heading the firm's 16 practice area, supported by over 45 on-staff lawyers and 30 additional specialised personnel.
The ever-expanding client base testifies to the firm's quality and strong work ethic. It continuously advises and assists financial institutions, administrations, local and government authorities, listed and unlisted companies, SMEs and various multinational companies.
Strengthened by its unique structure in the North-Eastern Italy (in terms of both its specialisation and size) BM&A remains faithful to its original mission and values: to offer its clients excellent tailor-made legal assistance across a broad spectrum of practice areas. Its team of lawyers have impeccable professional and academic qualifications, often having studied and worked abroad, and pay particular attention to new legal and financial developments, which in recent years has enabled the firm to establish new innovative practice areas such as e-commerce, privacy and agri-food law.